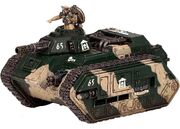 Devil Dogs are a variant of the more widespread Hellhound. Armed with powerful melta cannons, Devil Dogs are able to tear through heavy troops and armoured tanks in short order. When fired, the main weapons make a high-pitches howl as moisture in the ait vapourises, becoming a roaring blast as the target detonates.
Community content is available under
CC-BY-SA
unless otherwise noted.