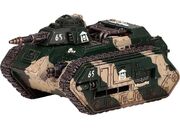 Bane Wolves are used when the complete eradication of the enemy is warranted. They smother their targets in broiling clouds of noxious gas that dissolves organic material in moments. Victims' blood boils in their own veins and their flesh skoughs from the bone as the mixture of toxins do theor horiffic work.
Bane Wolves are a variant of the Hellhound.
Community content is available under
CC-BY-SA
unless otherwise noted.